Mehrkomponenten Protein
(7)
Filter Mehrkomponenten Protein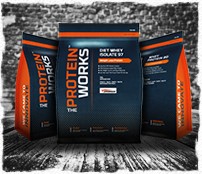 Was ist das beste Mehrkomponenten Protein?
DAS PROTEIN WORKS ™ All Day Protein wurde entwickelt, um Athleten und Sportlern dabei zu helfen ihren erhöhten Proteinbedarf zu decken. Alle die Gewicht verlieren möchten durch eine hohe Proteinaufnahme merken oft wie schwer es ist ausrechend Proteinüber den Tag hinweg zu essen. Zum Glück hat TPW™ das unglaublich leckere All Day Protein geschaffen, damit du dich nicht mehr auf massenhaft ungewürzte Hühnerbrüste oder hart gekochte Eier verlassen musst.
Der Grund, warum All Day Protein anders ist als die meisten Mehrkomponentenproteine ist, weil es ein Multi-Timing-Release-Protein-System enthält. Das heißt, es enthält eine Mischung aus verschiedenen Proteinen, die jeweils unterschiedliche Absorptionsraten, Verdauungsraten und Aminosäureprofile aufweisen. Es sind die unterschiedlichen Eigenschaften jedes Proteins, das in der All Day Protein-Formel enthalten ist, die dann langsam freigesetzt wird, den Körper somit den ganzen Tag über mit Aminosäuren versorgt und dafür sorgt, dass du lange gesättigt und zufrieden bist.
All Day Protein ist im Wesentlichen die Summe und Substanz der einzelnen premium Proteine, die wir im THE PROTEIN WORKS™ Sortiment haben. Von Whey protein bis hin zu Casein, haben wir die besten Eigenschaften von jeder Zutat genommen und zusammen verschmelzen sie zum All Day Protein, das ganz oben auf unserer Bestseller-Liste zu finden ist.
All in One The Works™ Advanced ist eine hochmoderne All-in-one-Proteinmischung, die intern gemäß unserer eigenen anspruchsvollen Rezeptur aufgestellt wurde. Sie liefert essentielle Nährstoffe für die Entwicklung hochwertiger, schlanker Muskeln.

TPW™™ 100% Whey ist eine Premium-Proteinmischung, die auf unseren beiden beliebtesten Molkenproteinen basiert – Molkenproteinkonzentrat und Molkenproteinisolat. TPW™™ 100% WHEY wird mit 100 % der besten, heute auf dem Markt erhältlichen Molkenproteine formuliert und unterstützt ideal das Wachstum schlanker Muskeln.

TPW™ 100% Whey Advanced ist eine innovative Premium-Molkenproteinmischung mit hoher Aminodichte, die exklusiv von THE PROTEIN WORKS™ konzipiert und hergestellt wird. Das Produkt besteht aus Molkenproteinkonzentrat, Molkenproteinisolat sowie hydrolysiertem Molkenprotein und sorgt für kontrollierte, stufenweise Proteinfreisetzung.

TPW™ 100% Whey Extreme wurde entwickelt, um über die etablierten Grenzen in der Welt der Sporternährung hinauszugehen. Unsere Vision bestand darin, die umfassendste, nährstoffreichste Proteinrezeptur auf dem Markt zu entwickeln. Sie ist in Sachen Inhalts- und Nährstoffzusammensetzung einzigartig und setzt neue Maßstäbe, was Sporternährung angeht.

All in One Protein The Works™ ist eine hochmoderne All-in-one-Proteinformel, die mit den geradezu revolutionären PepForm®-Leucinpeptiden entwickelt wurde. Das auf die Förderung des Muskelaufbaus ausgelegte Produkt punktet mit einer erstklassigen Mischung aus Eiweißkonzentrat und -isolat, optimalen Dosierungen von Kreatin, Glutamin und Leucin.

Für die Entwicklung des Whey Protein 360 haben wir unsere jahrelange Erfahrung im Bereich der Sporternährung mit den neuesten Ideen für hochqualitative Protein Shakes kombiniert. Die einzigartige Zusammensetzung vereint hochqualitatives langsam und schnell wirkendes Molkenprotein um eine konstante Eiweißversorgung zu gewährleisten. Whey Protein 360 enthält Whey Protein Konzentrat, Whey Protein Isolat, Milcheiweiß, Soja Protein und hydrolysiertes Molkeneiweiß in der optimalen Zusammensetzung die auf dem Markt erhältlich ist.

All Day Protein ist ein Protein mit stufenweiser Freisetzung, hergestellt um die Muskeln mit allerlei Nährstoffen über eine langanhaltende Zeitperiode zu versorgen. Diese einzigartige Formel besteht aus erstklassigen natürlichen Zutaten für einen vollständigen Proteinshake. Mit 47g pro Portion ist es der ideale Shake für alle, die ein ultimatives Muskelwachstum anstreben.