Filter Pulver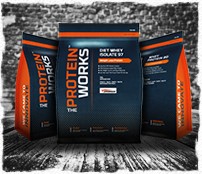 Das Proteinpulver-Angebot von THE PROTEIN WORKS™ enthält die hochwertigsten Kreatin-, Aminosäuren- und Kohlenhydratpulver, die heute auf dem Markt erhältlich sind. Während wir zweifellos über eine der besten und umfassendsten Produktpaletten bei Proteinshakes verfügen, sind wir auch stolz auf all unsere anderen Produkte, die dich beim Training unterstützen. Daher ist ein ganzer Bereich auf unserer Seite weiteren Pulvern gewidmet. Damit kommen wir unserer Philosophie der PERSÖNLICHEN Ernährung und unserem Versprechen nach, dir stets maßgeschneiderte Ernährungs- und Ergänzungsprodukte für deine Trainingsziele zu bieten. Egal also, ob du deine Muskelmasse steigern, Körperfett reduzieren oder deine Sportleistung verbessern willst: Wir haben das richtige Sportpulver, mit dem du deine Ziele erreichen kannst.
Kreatin ist bereits in tausenden Studien unter die Lupe genommen worden. Es wurde festgestellt, dass Kreatin die körperliche Leistungsfähigkeit in aufeinanderfolgenden kurzen und hoch intensiven Trainingsschüben steigert. Aus diesem Grunde ist Kreatin das zweitbeliebteste Ergänzungsprodukt in der Sporternährung. Die Nummer Eins ist natürlich das Molkenprotein. Wir sind uns der Bedeutung von Kreatin bewusst und bieten es bei THE PROTEIN WORKS™ in vielen verschiedenen Formen. Sieh dir unten jede Produktseite an, wo du eine detaillierte Erläuterung zu den Unterschieden bei jeder Darreichungsform findest.
Auch in Sachen Kohlenhydratpulver bieten wir viele verschiedene Produktvarianten. Dazu gehören schnell absorbierende Stoffe wie Dextrose, Maltodextrin und Wachsmaisstärke, die du nach dem Training zusammen mit deinem Molkenproteinpulver einnehmen kannst. Oder unsere reinen gemahlenen Haferflocken, die mit ihrem niedrigeren glykämischen Index eine langsame und anhaltende Energiefreisetzung während des Trainings ermöglichen. Dies ist im Prinzip die Kohlenhydratvariante des langsam absorbierten Casein Proteins.
Unsere Aminosäurenpulver umfassen bestimmte Grundaminosäuren, die Teil jeder Sporternährung sein sollten. Neben den vielen Vorteilen vollwertiger Proteinformen wie Molkenproteinisolat lohnt sich Studien zufolge auch die Ergänzung mit freien Aminosäuren. Bei TPW™ suchen wir stets nach Wegen, uns zu verbessern – sowohl im Hinblick auf unsere Sporternährungsprodukte wie auch auf unseren Service. Daher werden all unsere Pulverprodukte gemäß guter Herstellungspraxis in verschließbaren, robusten Behältern und Verpackungen ausgeliefert. So verlassen Sie sicher die TPW™ Zentrale und kommen in bestem Zustand bei dir an. Die gleichen Herstellungsprozesse, die für unsere beliebten Proteinpulver zum Einsatz kommen, verwenden wir auch für unsere anderen Pulverprodukte.
Creatine Extreme revolutioniert das beliebteste Ergänzungsprodukt von Kraftsportlern auf der ganzen Welt. Creatine Extreme enthält Inhaltsstoffe, welche die Wirkung von regulärem Kreatin nachweislich verstärken. Damit bietet es unvergleichliches Muskelaufbaupotenzial.

Wir sind stolz auf unser ganzes Aminosäure-Sortiment. Aber BCAA Extreme ist das Juwel in unserer Amino Reihe und dazu in der Lage dein Immunsyste zu unterstützen, selbst nach dem intensivsten Workout, das du je hattest.

Ultra Carb von The Protein Works™ ist eine einfache, aber auf wissenschaftlicher Basis entstandene Kohlenhydratrezeptur, hergestellt unter Zugabe von Dextrose, Maltodextrin und 1000 mg Glycin. Sie wurde für den Aufbau von Magermuskelmasse und zur Unterstützung der Reparatur und Erholung von Muskeln nach dem Training entwickelt.

Instantisierte BCAA von TPW ist ein erstklassiges Aminosäure-Nahrungsergänzungsmittel. iBCAA enthält eine optimale Mischung dreier Aminosäuren Leucin, Isoleucin und Valin in einem Verhältnis von 2:1:1. TPW™-iBCAA sind in einzigartigen natürlichen Geschmacksrichtungen sowie als geschmacksneutrale Standardoption erhältlich.

Grünteeextrakt von TPW™ ist zur Gewichtsabnahme äußerst beliebt. Unser Grünteeextrakt ist ein äußerst hochwertiger Inhaltsstoff und gehört zu den potentesten Inhaltsstoffen auf dem Markt.

Pre-Works™ stellt einen neuen Gipfel in Sachen Pre-Workout-Wissenschaft dar. Es enthält mehr als 27.000mg an Wirkstoffen pro Portion. Prall gefüllt mit über 20 der am besten erforschten einzelnen Extrakte der heutigen Sporternährung ist Pre-Works™ auf Workouts mit extrem hoher Intensität ausgelegt.

Genesis Pre Workout™ ist eine wirkungsvolle Formel, die aktuelle Möglichkeiten und Ansichten der Pre-Workout-Sporternährung in Frage stellt. in der Genesis Pre Workout™-Formel steckt eine Entwicklungszeit von über einem Jahr. Sie basiert ausschließlich auf hochmodernen Inhaltsstoffen und verwendet neueste Herstellungstechniken. Das Ergebnis ist unsere bislang fortschrittlichste Pre-Workout-Formel.

RAZE Pre-workout Booster™ ist ein wirkungsvoller, wissenschaftlich entwickelter Booster für alle, die ihr Training auf ein neues Niveau bringen möchten. Es ist mit wissenschaftlich bewährten Inhaltsstoffen entwickelt, deren synergistische Effekte positiv zur Trainingsintensität und zu optimalen Ergebnissen beitragen

Beta-Alanin von The Protein Works™ ist eine nicht essenzielle Aminosäure bester Qualität. Wir beschaffen es exklusiv von einem akkreditierten TPW™-Lieferanten. Es ist die einzige natürlich vorkommende Beta-Aminosäure und fördert nachweislich die Steigerung von Kraft, schlanker Muskelmasse und Muskelausdauer.

Diet Super Greens-Pulver von The Protein Works™ ist eine revolutionäre Formel, die alle Nährstoffvorteile unseres beliebten Super Greens-Pulvers mit fortschrittlichen Premium-Inhaltsstoffen kombiniert, die für den Fettabbau entwickelt wurden. Eine Portion Diät-Super Greens-Pulver entspricht fünf Portionen Obst und Gemüse.

Leinsamenpulver von TPW™ ist 100 % natürlich und von höchster Qualität. Es wird kalt gemahlen denn so wird die Vollwertigkeit und Wirkung des Produktes bewahrt. Es ist frei von Zuckern, Soja, Milchprodukten und Konservierungsstoffen und eine ideale Ballaststoffquelle. Leinsamen enthalten essenzielle Fettsäuren (EFA), insbesondere Omega 3.

Muscle Super Greens von The Protein Works™ ist eine bahnbrechende Formel, die unsere beliebten, nahrhaften Super Greens und hochmoderne Premium-Aminosäuren kombiniert und so Muskelwachstum und -erholung fördert.

Amino-NRG von The Protein Works™ ist eine einzigartige Amino-Energieform; ein konzentrierter, innovative Energieverstärker, der zu den meistverkauften Aminosäure-Ergänzungsprodukten auf dem Markt gehört. Amino-NRG wird mit einer wissenschaftlich entwickelten Mischung von ultrareinen Aminosäuren hergestellt und fördert Energie, Produktivität, Kraft, Geschwindigkeit, Erholung und das Muskelaufbaupotenzial.

Super Greens-Pulver ist eine äußerst potente Superfood-Gemüsepulverrezeptur, die voll mit 23 der weltweit nährstoffreichsten Inhaltsstoffe ist. Super Greens-Pulver von TPW™ besteht ausschließlich aus Premium-Inhaltsstoffen. Es liefert einen extrem nahrhaften Shake, mit dem du zu jeder Tageszeit deine Nährstoffaufnahme im Griff hast.

TPW™ Medium Chain Triglycerides (MCT) bestehen aus 100 % reinem MCT-Pulver. Als besondere Fettsäure, die in der Medizin traditionell zur Gewichtszunahme nach einer Krankheit oder Operation verwendet wurde, wird sie nun von Sportlern als effizienter Kalorienzusatz und Brennstoff sowie zum Gewinnen von Masse genutzt.

Haferpulver von THE PROTEIN WORKS™™ besteht zu 100 % aus natürlichem, fein gemahlenem schottischem Hafer. Sie sind eine hochwertige Quelle von Kohlenhydraten mit niedrigem GI, reich an löslichen Ballaststoffen und enthalten andere wichtige Nährstoffe wie Zink, Vitamin E, Calcium und Eisen. All diese Inhaltsstoffe tragen zur Gesamtgesundheit bei.

Glutamin von The Protein Works™ gilt als 100 % reines, feines Glutaminpulver in der heutigen Sporternährung. Glutamin ist die häufigste Aminosäure in den Muskeln des Körpers. Es gilt als essenzielle Nahrungsergänzung für alle, die intensiv trainieren, und ist ein "Must Have" Supplement für alle die intensiv trainieren. Es ist die perfekte Wahl für das Post-Workout.

D Aspartic Acid ist 100 % rein und wird nur aus der hochwertigsten D-Asparginsäure hergestellt. D Aspartic Acid ist einer der beliebtesten Aminosäure in TPW, die mit dem Wachstum von Muskelgewebe und einer Steigerung der Libido assoziiert wurden. D-Asparginsäure wird von einem TPW™ akkreditierten Zulieferer bezogen. Daher wird dieses Produkt durch unser Qualitätsversprechen abgesichert.

TPW™ Kreatinmonohydrat ist eines der qualitativ besten Kreatinpräparate, das heute auf dem Markt erhältlich ist. Das Produkt besteht aus 100 % reinem Kreatin. Beim Produktionsprozess wird nichts hinzugefügt oder entnommen. Es ist 100 % "200 Mesh". Das bedeutet, dass es eine ultrakleine Partikelgröße hat, damit eine schnelle Absorption durch den Körper sichergestellt ist.

Spirulina von THE PROTEIN WORKS™ ist eines der ältesten Superfoods der Natur. Es ist eine Süßwasserpflanze mit unglaublich hohem Proteinanteil, die in tropischen und subtropischen Gewässern gefunden werden kann. Sie enthält jede essentielle Aminosäure und ist unheimlich nährstoffreich.